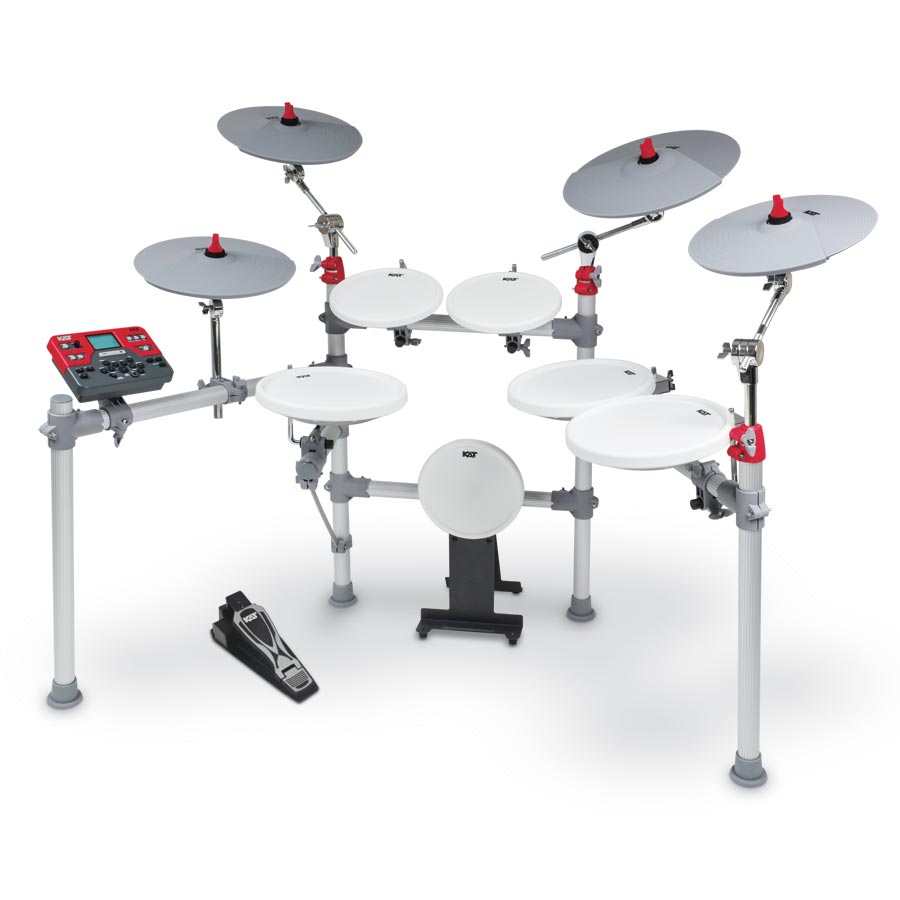 This is the new KAT Percussion KT3. The first thing I noticed looking at this new kit is the large dual zone rubber pads. Traditionally rubber pads tend to be on the smaller size (under 9″ inches), but with the new KT3 you get three large dual zone 11″ pads (Snare and Tom 3&4). It also includes two 9″ inch dual zone pads for the Tom 1 & 2 positions. What I really like about the new KT3 is the configuration and number of triggers you get with this kit. This configuration should satisfy most drummers needs and at a street price of $999.00 I think this will be a big hit.
For info from KAT Percussion please visit: http://www.katpercussion.com

Additional thoughts
I do like the look of the new KT3 however, I do want to point out a couple things. This kit (like most kits in its price range) is based on standard Medeli edrums. I don't want to revisit all the particles of what Medeli kits this is based off of since most look to be the same as the KT2. For the Hellfiredrums take on KT1 & KT2 please see: KAT Percussion KT1 & KT2 Digital Drum Sets (Video & More!). The module that KAT Percussion uses for the KT3 does have a good connectivity. For that reason it seems well designed for triggering VSTs. However, I'm not a big fan of the Medeli module that KAT is using for the new KT3. I would have thought they would have used a slightly more robust Medeli module and not the same base module that they used for the KT2. I most likely wouldn't  gig out with this module as I would want something that has a little more in the way of  reducing "machine gunning". I'm sure (like the KT2) KAT most likely customized the programing of the module.
I think this new kit from KAT Percussion will give the new Simmons a good run for their money. I think Simmons SD1000 (see: Simmons SD1000 Electronic Drum Set) has a better sound module, but the KAT KT3 has a much nicer configuration.
For more information on the new KAT Percussion KT3, please visit: http://www.katpercussion.com